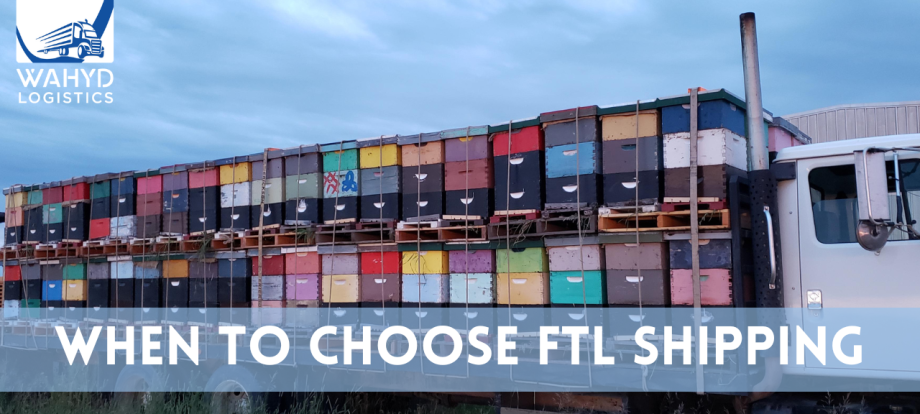 Knowledge Base
When to Choose FTL?
When transporting goods, the process should be as smooth as possible. First and foremost, it is crucial to have the right transportation method and shipment company in place to get your items from point A to point B as quickly and safely as possible without sacrificing any of the integrity of the product or creating any other complications along the way. In some cases, it can be difficult to determine when FTL shipping is the best option, but here are a few instances where it's best to consider FTL services.
What is an FTL Service?
FTL stands for Full Truckload. Transporters use FTL when shipments fill up or come close to filling up an entire truck (12 pallets or more). FTL is ideal for businesses shipping large quantities of products. Smaller businesses can pay for FTL even if they don't fill up the truck to ensure their products don't get mixed up with other shippers' products, but they will lose the cost-sharing benefit of shipping through LTL. Full truckload service is a cost-effective way of transporting your goods from one place to another anywhere in Pakistan. Full truckload service is a more efficient way of transporting your goods than using multiple trucks for each consignment, as you will get all your shipments delivered at once and not have to wait for them.
More Controllable Than LTL
If you're looking to ship a large number of goods, or if there are only valuable items in your shipment, then a Full truckload may be the best option. At the same time, less than a truckload is the amount of control over your shipment due to excessive handling.
When Should Businesses Choose FTL?
Businesses can use FTL shipping for large shipments that fill up an entire truck. Full trucks can hold up to 26 non-stackable pallets or up to 52 stackable pallets of standard sizes and have an average weight capacity of 15-20 tons.
Maximum Utilization
In FTL shipments you buy the entire truck space. This means there is no risk of damaged items due to the wares of others or wasted space.
Weight and Size, and Speed
Lightweight: 100 – 5,000 pounds.
Heavyweight: 10,000 or more pounds.
Size matters because sometimes lightweight objects can have a larger size making it difficult for other shippers to tuck in their items with them, so in this case, there is no choice but to go for FTL shipping
Speed: (is there a rush, or do you have to meet deadlines)? If there is no rush to deliver your items on a nearby delivery date, then sharing truck space with others and saving costs in LTL is the way to go. FTL is the best option for fast, on-time deliveries. In FTL shipments, there is a dedicated vehicle just for you (the shipper), meaning that it has one route and no extra trips.
Guaranteed Delivery times.
If you need a shipment delivered within a specific time frame, FTL shipments are the way to go. An LTL shipment has no set date of delivery, You'll have to wait until your driver calls you with an update on where they are and when they plan to arrive at your location.
With FTL deliveries, you have more control over when the truck arrives at your doorsteps. Suppose it will take longer than expected due to weather conditions or other reasons outside what was anticipated (like construction). In that case, this isn't a problem for most customers because those delays won't impact their schedule anyway.
Classification of freight
If you're shipping perishable goods, such as fruits and vegetables, it can be challenging to deliver at the right time. It's best to use FTL shipping because of its ability to deliver goods within 24 hours of being collected from your warehouse or factory.
Fragile or expensive products
Fragile or expensive products should be shipped through an FTL truck even if they don't take up the whole truck; this is because, in FTL shipments, your goods are more secure as there is less handling of products since the transporters will pick them up and the truck will stop directly at the destination. A single route removes the risk of your product getting delivered to the wrong address.
Cost
Every shipper would love to save costs while shipping goods; you must view these few factors mentioned above to choose the type of shipping that suits you. FTL shipping is usually more expensive since you pay for the whole truck, but in some scenarios, it can help save costs by a significant margin! The best situation for an FTL shipment is when shipping a truck of heavy and small-sized products, so you get the most out of your shipment. If you're partnering up with a 3pl, ensure they have no hidden costs and give free updated quotes.
Shipping large quantities of goods with FTL.
If you're moving large amounts of items, they will be easier to manage by having them all in one vehicle rather than spread out over several smaller ones. This is especially true if you are transporting something fragile or expensive—such as fine china or glassware—that would be damaged during transit. While shipping such items be sure to have a look at our Tips to Make Packing & Moving a Breeze
Using a 3PL for FTL Shipping
If you've looked at all the given points and want to ship your goods via a full truckload, you should consider partnering up with a 3pl logistics service provider. As an experienced 3pl provider, Wahyd Logistics knows the ins and outs of both types of shipping, including sizes of pallets, how to stack and adjust the crates, packaging, and damage control. Wahyd Logistics has negotiated pricing with most FTL truckload carriers, so with us on board; there's no need for negotiations or haggling over price tags!
If you're looking for a reliable FTL service provider for your bulk Out-Bound shipments, then Wahyd Logistics is the perfect option for you. When you choose our FTL logistics services, you can rest assured that your shipment will arrive on time. You'll know exactly where your shipment is as we provide highly accurate, live tracking information. For any sudden changes in your schedule, our logistics specialists are also available to change your delivery date at short notice. Our team works closely with customers to ensure that their cargo has a safe journey through our FTL logistics services.
Choose Wahyd now to get the most advanced logistics solutions. For further queries, Contact our support team anytime!