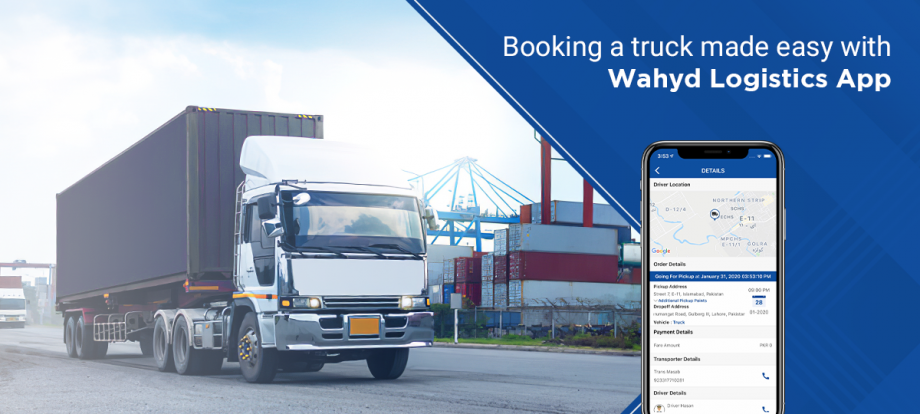 Truck Booking
Wahyd Logistics – The Online Truck Booking Solution You Need
Wahyd Logistics is a powerful and comprehensive goods transportation solution. Built from the ground up using cutting edge technology, it has been specially created to make online truck booking as easy as possible, while serving the needs of every party involved in the transportation industry.
To fulfill this promise, Wahyd Logistics has divided the process of moving goods among three users: the customer, transporter, and driver. The solution caters to all of them individually, with an app for each, providing them everything they need just a few finger-taps away! For online truck booking, there is no better option.
The customer app presents unprecedented convenience with a 2-step order creation process, seamless and automatic connection, and handover of order to a trusted transporter for instant online truck booking, real-time GPS-based order tracking, multiple payment options, and more. You can focus on the end result of the shipment of your goods, and leave the rest of the headache to us!
If you're a transporter, the transporter app provides a powerful interface for managing your fleet of drivers and vehicles, tracking any and all orders you have accepted or are currently completing, maintaining a complete order history, providing and accepting orders, and more…all with just a smartphone! Whenever a customer is looking for an online truck booking, you will be right there to oblige. It's time to leave the inefficient processes of old behind, and join Wahyd Logistics in a paperless, connected, and efficient digital future.
Not one to leave any potential ease-of-use upgrade behind, the drivers are also provided for in the solution! The Wahyd Logistics driver app provides them with an incredibly easy way to update the status of the order, so everyone knows exactly where they are, eliminating the need for personal follow-ups. The app also enables the driver to receive signatures digitally and gives the option of taking pictures for further pickup and delivery verification.
With revolutionary depth, connectivity, transparency and visibility, and convenience, combined with a vast network of trusted and reliable transporters, Wahyd Logistics, for online truck booking and more, is all you need no matter what and how much you need to be moved!
Who is Wahyd?
Wahyd Group Inc. is a technology company dedicated to providing solutions for real problems in our society. With a bright and dedicated team, and powerful technical core competency, Wahyd has positioned itself to be the driver of a digital revolution wherever it is needed…and with Wahyd Logistics, online truck booking and beyond is the target.
Why Choose Wahyd?
Wahyd is no stranger to transportation. Our successful ventures into e-hailing and travel & tourism have enabled us to build a robust network of transporters and the experience needed to leverage technology to make the best use of it. Online truck booking is a logical progression for our experience and skillset.
For its customers, Wahyd promises:
Easy to understand and use the order creation and handover process at a price that suits you.
Safe, reliable, and timely transportation of your goods via verified transporters and drivers; you can complete your online truck booking worry-free.
Real-time order tracking with GPS location.
The vast network of transporters; you are never left waiting.
Multiple payment options, including in-app options.
A single point of contact: all you need is our app or website; you can complete an entire order without making a single phone call to anyone else.
For transporters, we provide:
Fleet and driver management; the system knows who's available, and when, so you don't have to work it out.
An easy source of orders to take up from genuine customers with real needs.
Real-time order tracking with GPS location, and complete order history.
Streamlined, 100% paperless order process.
For peace of mind, Wahyd Logistics is the best choice. Never has so much power and flexibility been placed in the palm of your hands – literally, in the shape of your own smartphone! Download the Wahyd logistics service app now, join us in the digital future, and experience online truck booking like never before!